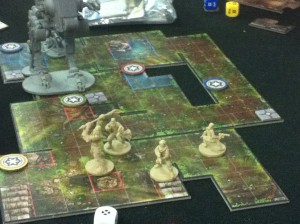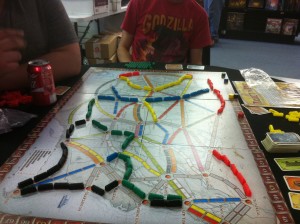 In the first meeting of the Board Game Grand Prix, four games were played at Common Ground Games.
Splendor — winner Martin — 2 points
Splendor — winner Martin — 2 points
Star Wars Imperial Assault — Martin 1 point (for the Imperials)  [Robert 1 point, Nick 1 point, Brooks 1 point, Patrick 1 point]
Ticket to Ride — Winner Brooks  3 points [2nd place Robert 1 point]
We determined that there should be four tiers of games, Tough, Intermediate, co-op and opening.  If you win a tough game, 1st gets 4 points, 2nd gets 2 points.  An Intermediate game winner gets 3 points, and 2nd gets 1 point.  For co-op, the runner automatically gets 1 point.  The group each gets a point if they win, and the runner gets another point if they don't.  Opening gets 2 points for the victory, but no second place points. So the tally with week one done:
Martin — 5 points
Brooks — 4 points
Robert — 2 points
Patrick — 1 point
Nick — 1 point
At Christmas time, three gift certificates will be given to the overall first, second and third place finishers. Next week we are at it again as I pushed my DnD game one week.