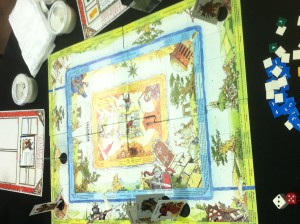 In the third session of the Board game Grand Prix, we played a starter game of Splendor, and then a lengthy game of Talisman. Unlike our earlier game of Talisman, this time the game turned on us, with Robert and Patrick being turned into toads, Emory harassing Martin's character throughout the game, and almost all having very bad luck. More of a grind quite frankly. We're putting Talisman on the shelf for a bit.
So Points awarded:
Robert 2 points for victory at Splendor
Nick 4 points for victory at Talisman
Patrick 2 points for 2nd place in Talisman
Overall standings:
Martin 8 points
Kevin P. 5 points
Nick 5 points
Brooks 4 points
Robert 4 points
Patrick 4 points
It is anybody's contest at this point.  There is still time for people to jump in.