A Great Price to Pay
Characters:
Kaliferous

:

Kraken mage

Rodrigo

:

Human priest and water Mage from Earth

Mordecai

:

Human Air Mage Puritan from Earth

Daxson

:

Doreen treasure diver native
Date: 4/8/17
XP: 5
Recap:
The Crew approached Blackbeard's ship unmolested and as they pulled alongside the massive blackened Man of War they spotted a tall imposing figure standing on the Destroyers railing looking down at them with a smirk, Blackbeard himself.
The Crew requested parley and to discuss a trade to which Blackbeard invited them aboard laughing. As they climbed up they noticed that the ships wood was rotten and infested with insects. They also spotted strange caldrons with bubbling red liquid inside.
On the deck they found themselves face to face with a Legend. Tall, broad with a wild beard and on his hip a gleaming sword. Rodrigo took point and attempted to persuade and trade the Sword of King Amemnus for Mordecai's powerful Staff of Wane. He attempted to convince Blackbeard that the Staff can tell the future and was a great prize. Unfortunately the ruse failed and Blackbeard simply said "Fine, why trade the Sword when I can just take the Staff myself and kill you?" Fighting then broke out.
While Kal and Rodrigo blasted crew members, Mordecai struggled with Blackbeard in an attempt to lift him off the ship. During the confusion, stealthy Daxon skillfully plucked the sword from Blackbeards belt and jumped overboard. The mages managed to call down destruction and death and distracting the crew successfully for a time. For a long while the Crew bravely fought and held back the hordes of minions and Blackbeard himself. Several solid shots were aimed at Blackbeard who laughed and shrugged them off with not even a scratch, in fact it seems his wounds healed instantly.
However just as the sun set and the moon shone down through the clouds, the Crew saw what Blackbeard and his mates really were- undead monsters. Their illusions of humanity faded and leering zombies remained. Laughing at the confused look on Mordecai's face Blackbeard himself drove his cutlass into our friends belly greatly wounding him. Blackbeard's crew and officers gained the momentum and surrounded Kal and Rodrigo forcing them back and away from their wounded friend Mordecai. To make matters worse the Destroyer began pumping the horrible red liquid, Hag's Breath, onto the deck of the Liberators Wrath brutally dissolving and killing their sailors left behind. Things were dark, but hope rose as well because at this point the Crew realized that Daxson was missing overboard with the Sword!
Blackbeard no longer had the Sword, yet they could not retreat without Mordecai who was unconscious and surrounded by a horde of Blackbeard's minions. Suddenly a howl rose in the night and a twisted version of Alain, now a fully born vampire lept onto the Destroyer's deck. He looked at carnage and said in a snarling voice "Go! Save your friend and leave, I will redeem myself and my family..you save Caribdus" Vampire Alain jumped on Blackbeard and began trying to rip him apart. This provided just enough of a gap for the Crew to snatch Mordecai and leap onto their ship.
Luck was not fully on their side, because as they attempted to sail away,  a full blast of Hag's Breath landed on the Crew wounding some but proving too much for Mordecai. In his weakened state, the acidic Hag's Breath proved too much for the ever stalwart Mordecai and losing his grip on the world he perished.
Not able to mourn the loss of their friend, the Crew rapidly set sail to flee the Destroyer. As they pulled away Blackbeard gave chase and tossed the head of poor Alain at them, proving that he was even stronger than a Vampire. Over the course of hours the Crew tried to outsail the Destroyer and with some timely fog from the Maiden and excellent piloting by Daxon they managed to elude him in the night!
Just as they were out of that danger, another presented itself. Their friend Mordecai rose into a gristly undead abomination and because attacking the Crew. Being a powerful mage and skilled fighter in life made him an even more powerful thrall for Blackbeard. He quickly summoned a great storm and nearly caused the ship to capsize while his undead version fought and tried to kill his friends. Fortunately, the Crew was successful and managed to dispatch the abomination and put their friend finally at peace. Daxon was able to steer the ship out of the storm, but just barely intact.
The day was won and prize obtained, but at a great price. The Crew is now short two friends and the hardest battle yet is facing them. Do they have the will to succeed? Onward to take down the Hags!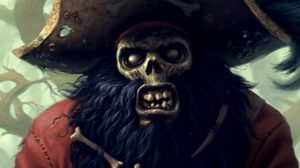 ---
Kaliferous Log:
Admiral,

There is a chance that this will be my last written report.  We have obtained the final piece necessary to defeat the hags, King Amemnus' Sword.  As I write this, we make way to face the evil which has proven so resilient.  I expect our captain will be using the whistle you gave him soon and we will be united reunited.  I am looking forward to seeing my people again.  Even in what may be my final hours.

Given the events we face, I feel it appropriate to make a personal confession.  Since our our costly attempt to stop the hags, my days and my heart have been filled with a darkness.  One I believe you saw in me when you sent me out.  My soul was so filled with hate and rage there was room for nothing else.  Things have changed.  I have changed.  In the beginning, I was skeptical of my new crew.  They were mostly outsiders.  Not truly connected to our world or it's troubles.  As I watched them, listened to them, sailed with them, fought with them, and dined with them I was reminded of a former life.  A former me.  They share a bond with each other I had all but forgotten possible after seeing my crew killed during that fatal battle with the hags.  Their concern for our world is genuine.  Born out of hope and love.  These can be seen in how they persevere and endure through great trails.  How they mourn deeply over the loss of even a single crew member.  How each hardship makes them more determined and more connected than before.  They have changed me.  Or maybe reminded me of who I once was.

Now this crew stands at the precipice of Carbdus' salvation and I stand as one of them.  As a new man who has rediscovered hope.

There is much more to report.  I will do so when we meet.

Kaliferous, Archmage of the Kraken Fleet